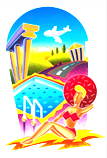 Fun in the Sun!



Enjoy having a pool, but don't like the daily hassles of keeping it clean and running smoothly? Don't struggle with your pool another day! Our pool maintenance, repair and cleaning services can help eliminate your frustration.

Come visit our downtown showroom and see for yourself why we are the most trusted name in pool service in Glendora. We carry a large stock of pool equipment, supplies, and chemicals for the do-it-yourselfer, and toys and games that are fun for the whole family.

To learn more about our services and products, please take a few moments to browse through our Website.